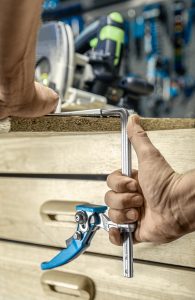 The Högert Technik brand offers new lever clamps, dedicated in particular to the carpentry industry, as well as for locksmith and modeling works. They enable precise, point fixing of various types of materials or elements, without fear of moving them.
Lever clamps are perfect for attaching guide rails from brands such as Festool, Makita, Metabo, Milwaukee, Hikoki, Wolfcraft or profiles on work tables. The die-forged clamp arm profile conforms to the most common T-rail size in the carpentry industry, i.e. 12 x 8 mm grooves.
High clamping force – up to 2050 N, allows to eliminate vibrations during operation, while the locking latch guarantees a stable attachment to a rail or other material and ensures comfort of work. The movable jaws of the clamps and the wear-resistant step-lock mechanism ensure a perfect adaptation to the material being processed. The profiled clamp arm is made of hardened steel, and the release button is made of durable ABS material. The handle is a zinc alloy, additionally powder coated. In addition, the clamps are characterized by the possibility of quick pressure adjustment, which facilitates work, as well as the possibility of precise operation with one hand.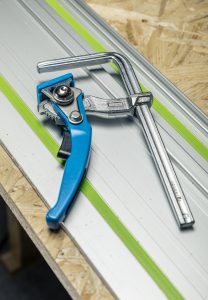 The following clamp dimensions are available:
Dimension
Catalogue number
160 x 60 mm
200 x 60 mm
300 x 60 mm
HT3B941
HT3B942
HT3B943
The operation of the lever clamps was presented in a short material on the YouTube channel of the Högert Technik brand.
Lever clamps expanded the brand's offer in April this year. They can be found in the brand's online store and at distributors all over the country. A list of distributors is available at www.hoegert.com.